ABILITIES CHECKLIST

Electrical work can be challenging, complex, physically demanding, and very rewarding. We have found that applicants who have not worked on construction projects, received specific training, or who do not have friends or relatives in the industry are often unfamiliar with the wide range of tasks electrical workers perform, or the skills needed today to be a successful electrical worker. The Electrical Training Alliance has prepared the following checklist to help prospective applicants measure their interest in day-today electrical work, and whether they will have the ability to succeed at the completion of their apprenticeship.
Thirty-five core abilities that are important for all four electrical worker specialties are listed on the following pages. The boxes to the left provide space to indicate your interest, as well as your capability, to perform the ability. If you are interested in performing work that requires the ability, place a checkmark under the column labeled "Interest." If you believe that you are capable of performing work that requires the ability, place a checkmark in the "Capability" column. In a few cases you might be unsure about your capability, especially if you have not worked with blueprints or technical documents. Consider your interest and capability based upon similar activities, such as automotive repair.
Interest Capability Ability to…
add, subtract, multiply, divide, and use algebraic formulas
read complex technical documents written in English
develop alternative solutions to a problem and choose the best alternative
communicate in writing with others
read and understand graphs, charts, and diagrams
plan and organize tasks to meet deadlines
understand how an electrical or mechanical system works
picture the way a construction project will appear before it is finished
be self-motivated, responsible, and dependable without close supervision
remain calm in an emergency situation
communicate orally with others in English
work smoothly with others as a team to complete a task
maintain good relations with others in a work setting
discriminate between colors
understand verbal instructions and warnings given in English
hear warning signals
maintain balance and perform construction tasks while on a ladder
coordinate body movements when using tools or equipment
reach and stretch to position equipment and fixtures while maintaining balance
bend or twist the body into unusual positions while working
traverse irregular surfaces while maintaining balance
perform physical tasks all day without becoming overly tired
use hands to manipulate small wires and objects
work with both hands
operate two-handed power equipment
regularly lift objects weighing up to 50 pounds
on occasion, lift objects weighing above 50 pounds
carry objects weighing up to 50 pounds for short distances
apply muscular force quickly to objects and equipment
push or pull heavy objects into position
climb ladders and poles up to 25 feet in height
work at heights
work in extreme hot and cold temperature conditions
work in a noisy environment
work at depths, such as in trenches, manholes or deep vertical shaft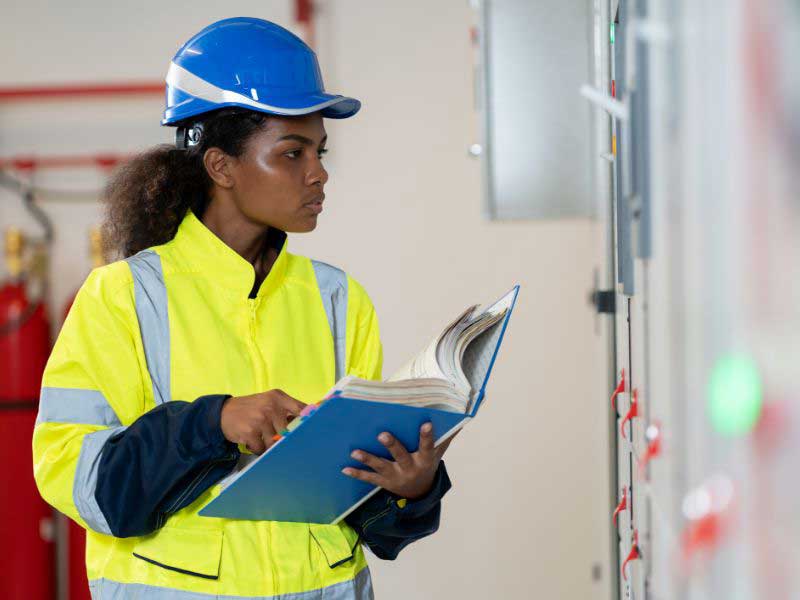 A particular employer might not require every one of these abilities for every electrical worker, and the importance of each may vary by the type of electrical job or employer and the level of experience. Many electrical contractors are required by federal or state law to consider making reasonable accommodations for otherwise qualified employees with disabilities, and in some cases, accommodations might be available. Our research has shown, however, that the listed abilities are significant on most job sites, and they are all usually needed in order to perform the essential functions of the job of an electrical worker. That is why all of these abilities, and others, are usually viewed by the Training Alliance as necessary to successful completion of any electrical apprenticeship program.
If you checked interest and/or capability in many of the abilities, you may be well suited for electrical work. If you checked relatively few abilities, or were unsure about checking them, you should take steps to learn more about electrical work. The fact that you do not have or cannot acquire a particular ability does not prevent you from applying for the apprenticeship programs, but it could present a problem during your training and/or on the job.